"Austin has an amazing talent for this form of medicine, as well as the uncanny ability to make anyone in his care feel comfortable and welcome."
"His concern, and his ethical and moral integrity were truly inspiring to have in a care provider . . . "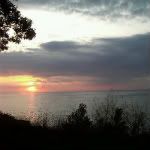 "He puts me at ease with his relaxed, gracious, and friendly manner and then, before I know it, I've discovered and confessed both joys and concerns that I didn't even know I'd been holding that particular day. These are then worked into the day's therapy . . . Austin does it all with a precise intuiton."
"I always leave feeling relaxed, refreshed, and re-energized."
"After my first session, I found myself walking in a manner that I hadn't for years. A carefree stroll that my wife tells me was what she first noticed about me when we met. Now, if I'm cognizant, I can return to that relaxed bearing when I want."
"Meeting Austin Homrighaus was a pivotal and life changing experience for me."
"Austin worked with me - and I say with me, as he really made me feel that I was equally a primary participant in the healing and recovery."
"He really listened. I felt I was being heard and understood genuinely and I could sense an unpretentious empathy."